Places Worth Looking Into
This page contains links to some interesting sites, not all art related, but all come highly recommended.
Links to my main institutes of education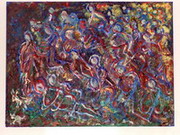 - Martha Castillo Clayprint Studios
- Martha Castillo Woman Made Gallery
- Cousette Copeland Creative Arts
- George Washington University
- Pacific Art League
- Ben Gurion University
- Avni Institute of Art and Design
Links that will help you get your own site up
- GoDaddy.Com will help you register your domain name
- FreeWebTown.Com will host your site for free with FTP access
- Andreas Viklund has some wonderful templates free to use for your site
- Download SimpleViewer to insert a gallery like the Sculptures gallery
- Download AutoViewer to insert a gallery like the Paintings gallery
And you are well on your way to having your own site withhout the need for expert HTML, Java and ActiveX knowledge!
And finally links to sites of family and friends
- My son Gil Levi's site
- My son's company BON Networks
- My daughter's legal office Shiri Levi Legal
- The Art of Lance A. Glasser - http://www.exxothermic.com
Hope these links help you as much as they helped me!